December, 2014
Laura Newman presented a poster on her research at BC's first inaugural Advancing Research and Scholarship at Boston College Research Day with "Global Public Health" as central theme. Laura was among only 26 graduate and undergraduate BC students who were selected to present their work. She is explaining her findings to Dr. Justine Carr of Steward Health Care on the first photo and posing with Alexa on the second photo.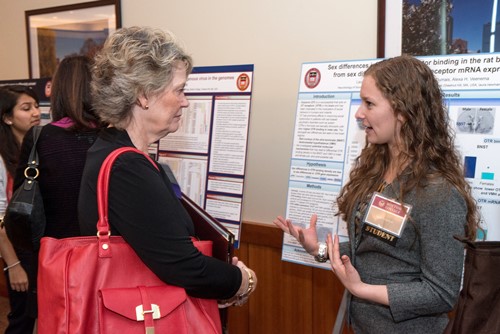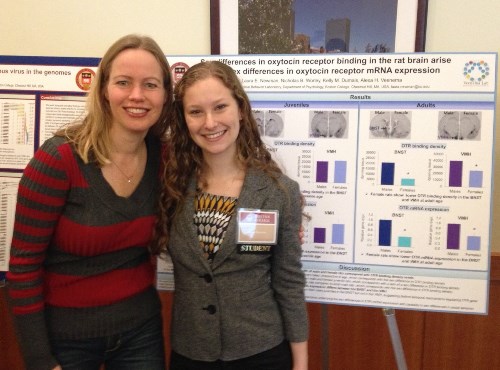 November 2014
The lab attended the annual meeting of the Society for Sociel Neuroscience (S4SN) (on Nov 13-14) and the annual meeting of the Society for Neuroscience (SfN) (on Nov 15-19), which took place in Washington, DC. Nick, Caroline, Kelly, and Remco (from left to right) presented their poster at the SfN (first and second photo below). They were among more than 15,000 scientific presenters and there were more than 31,000 participants! The third photo gives an impression of the large size of the hall in which special and presidential lectures took place. The last photo shows the lab (Brett, Kelly, Alexa, Nick, alumnus Jennifer Schiavo, Remco, Caroline) and BC colleague John Christianson having dinner at Nando's Peri-Peri.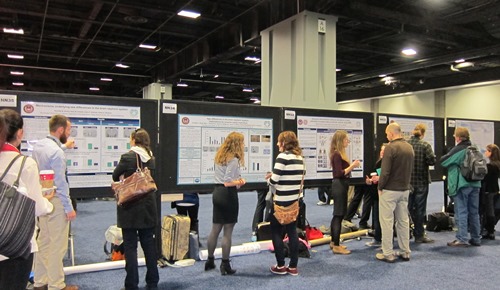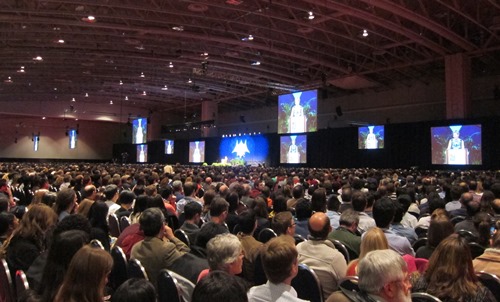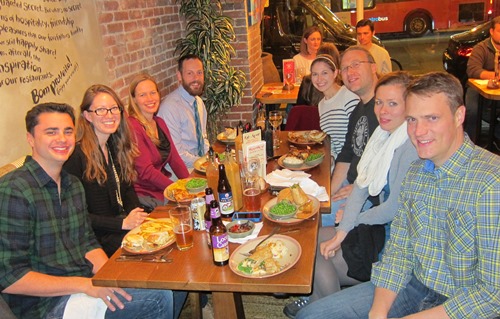 September 2014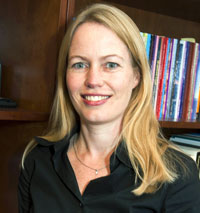 Alexa Veenema received a five-year, $1.75 million RO1 grant from NIMH to study the neural circuits underlying social play behavior in juvenile rats and how these neural circuits differ between males and females. Social play is a highly rewarding behavior and has been shown to be important for the development of social skills in humans and rodents. Knowledge about sex-specific regulation of social play in rats may help understand social play deficits seen in autism, a neurodevelopmental disorder that shows a strong sex bias in prevalence. This grant allows us to build on our recent discovery that the neuropeptide vasopressin modulates social play differently in male compared to female rats (Veenema et al., 2013; Bredewold et al., 2014). Alexa's grant was also highlighted in BC Chronicle.
August 2014
Remco (poster) and Alexa (two talks) presented their research at the annual meeting of the International Society of Psychoneuroendocrinology in Montreal, Canada.
July 2014
Kelly and Caroline presented their research at the biannual FENS Forum of Neuroscience that took place from July 5-9 in Milan, Italy. They each received a travel award from the Society for Neuroscience to attend this conference.
May 2014
Remco is the first author on a paper entitled "Sex-specific modulation of juvenile social play behavior by vasopressin and oxytocin depends on social context" published in the journal Frontiers in Behavioral Neuroscience. He and co-authors Caroline, Kelly, and Alexa showed that vasopressin and oxytocin modulate social play behavior in juvenile rats in neuropeptide-, sex-, and social context-specific ways. Vasopressin and oxytocin typically have opposing effects on anxiety-like behavior, with vasopressin enhancing anxiety and oxytocin reducing anxiety. We therefore hypothesized that these neuropeptides may regulate social play behavior differently in novel (novel cage) as opposed to familiar (home cage) social environments. Specifically, we predicted that vasopressin would reduce social play while OXT would increase social play in the novel cage. Results show that context matters, but not always in the predicted ways. Administration of vasopressin indeed reduced social play in the novel cage, but administration of oxytocin reduced social play in the home cage. These effects were found in female, but not in male, juvenile rats. Moreover, blocking vasopressin receptors enhanced social play in males and reduced social play in females, effects that were only found when rats were tested in their home cage. Finally, blocking oxytocin receptors reduced social play only in females and only in the novel cage. These findings indicate that sex and social context are important factors to consider if we aim to better understand how AVP and OXT modulate social behavior. This research was supported by the Brain and Behavior Research Foundation Grant 17382 and NSF Grant IOS 1253386.
May 2014
Jennifer Schiavo was honored as Scholar of the College at Boston College.The Scholar of the College award is a designation awarded to exceptional students who have excelled academically in their undergraduate studies and who have done substantial independent scientific work of the highest quality in their senior year. Jenn (right) was supervised by Remco (left).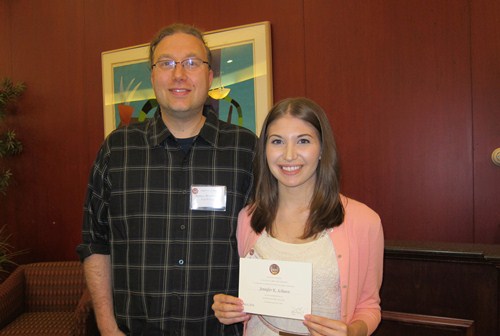 May 2014
Andrea Alonso, Marisa Immormino, Laura Newman, Jennifer Schiavo, Michelle Verreij, Kevin Wilkins, and Christine Wu presented posters on their research projects at the annual Psychology Undergraduate Research Symposium which took place at Boston College on May 5th.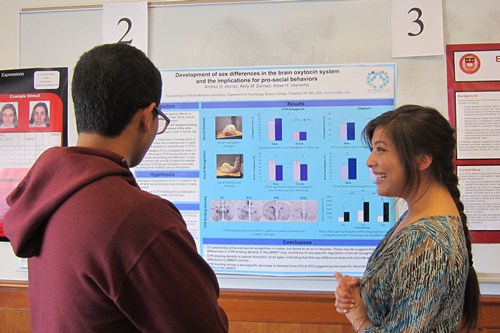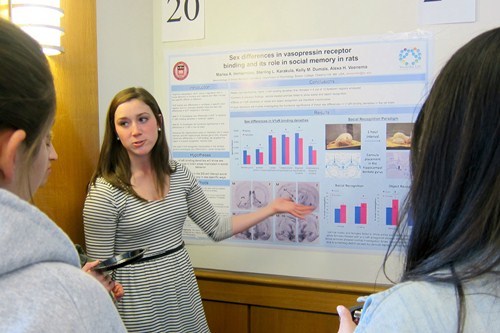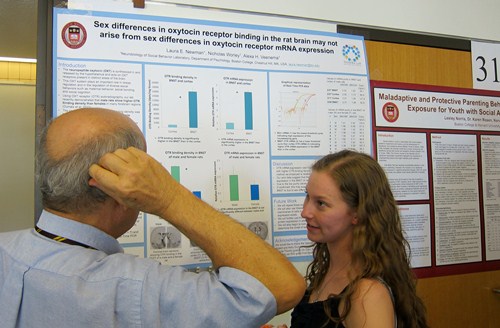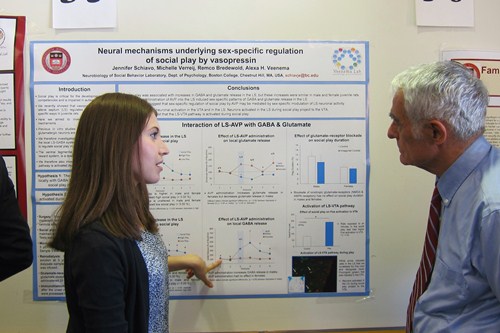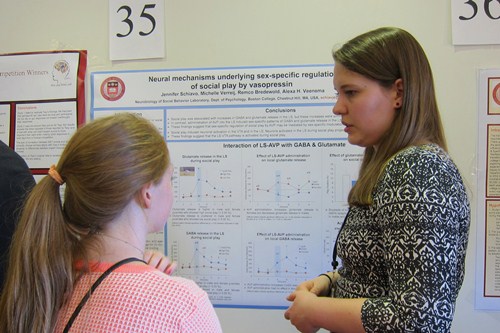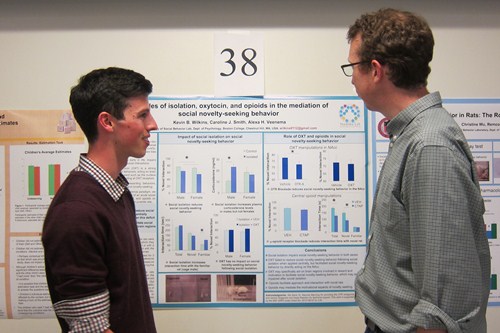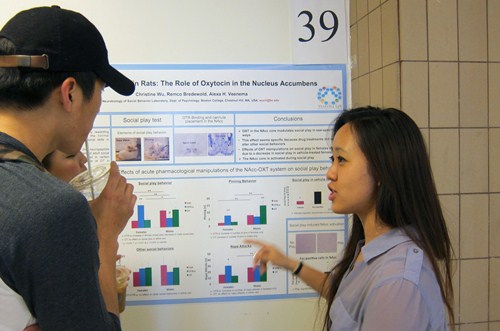 May 2014
Kelly, Caroline, and Nick gave talks about their research at the annual Graduate Research Day of the Department of Psychology at BC.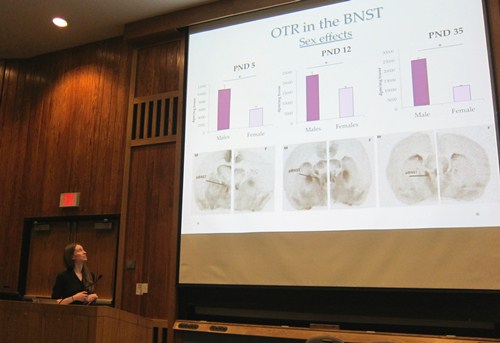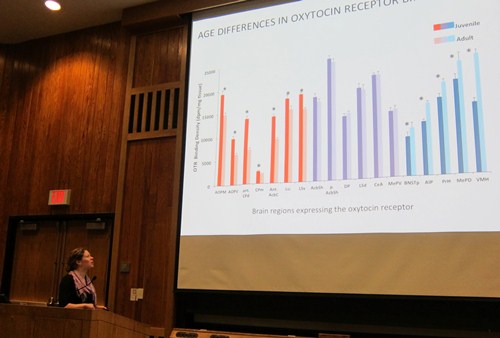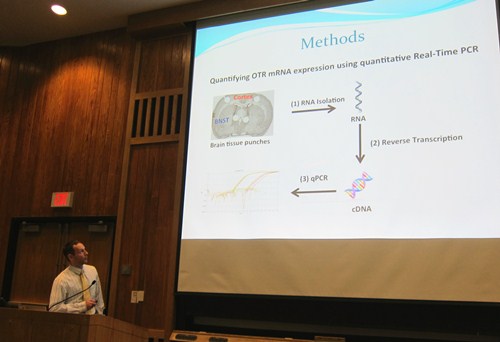 April 2014
Congrats to Kelly! She was awarded the Engelhard Pingree Fellowship. This honor recognizes a student whose work has made the greatest contribution to the research mission of the Graduate School of Arts & Sciences at BC. Kelly was given the award by Candace Hetzner (right), the associate dean for academic affairs in the Graduate School of Arts & Sciences.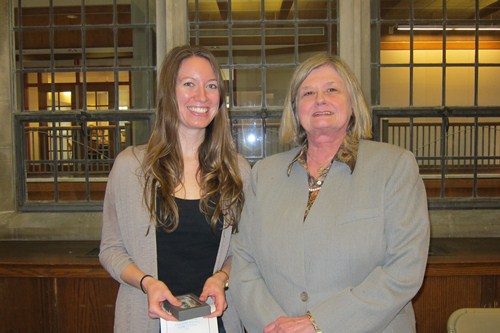 March 2014
Citations to Alexa's publications reached 2000! on Google Scholar.
March 2014
Alexa gave a talk at the annual meeting of the Eastern Psychological Association in Boston, MA.
February 2014
Kelly (photo below), Caroline (second photo below), and Alexa gave talks at the Social Brain Sciences Symposium that was held on February 8th at Boston College.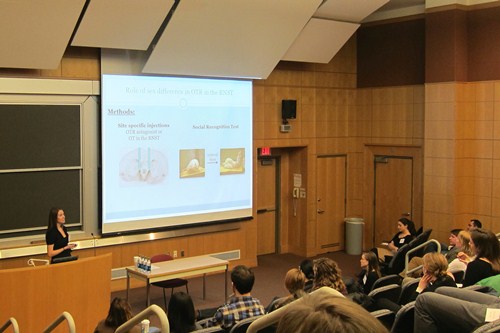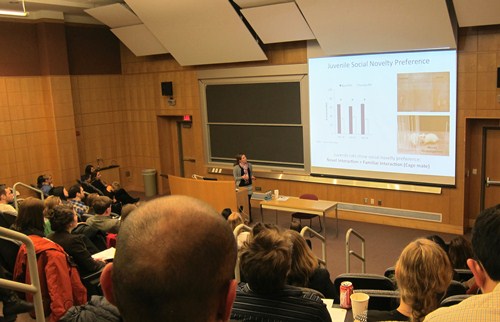 February 2014
Congrats to Kelly and Caroline! They each won a travel award of $2,000 from the Society for Neuroscience to present their work at the biannual FENS Forum of Neuroscience in Milan, Italy. Kelly and Caroline are among a total of only fifteen U.S., Canadian, and Mexican graduate students receiving this highly competitive travel award.
January 2014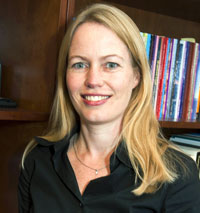 Alexa Veenema received a grant from the NIH Academic Research Enhancement Award Program! Alexa's research has shown that the neuropeptide vasopressin acting in the brain regulates social recognition in sex and age-specific ways (Link to paper). This grant will support research in the lab that aims to reveal the underlying mechanisms and will also explore the role of the closely related neuropeptide oxytocin in the regulation of social recognition.